Deep sea controller DSE705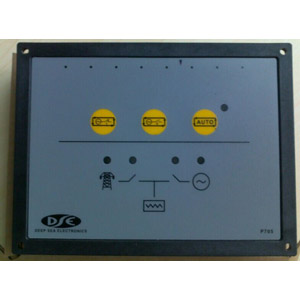 Item:

Dse705 generator controller

Country of original:

U.K

Main features:

Main Features
Automatic mains (utility) supply monitoring
Load changeover control
Manual start
Protected solid state (PSS) outputs
Front panel mounting
Front panel programming
LED indicators
Configurable timers
Configurable outputs
Single/three phase mains sensing

Benefits
Transfer's between mains and generator power
On-site module configuration to match user requirements
Operation
The module is operated by the three push-buttons on the front:
Manual Off Load-This is used to manually start and run the engine off load. Should the mains (utility) supply fail, then the load is transferred to the generator automatically.
Manual On Load- This mode is used to manually start and run the engine on load.
Auto Mode-This puts the module into automatic mode, where it will await a mains failure. Upon detection it will send a start request to the generator control unit.