Deep sea controller DSE6020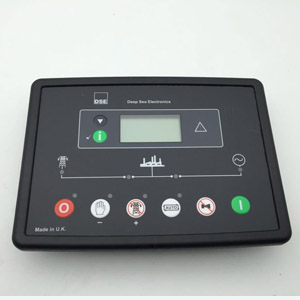 ITEM:

DEEP SEA CONTROLLER DSE6020

BRAND:

DEEP SEA

Country of original:

U.K

Desc

The DSE6000 Series configuration suite allows the 6000 family of modules to be connected to a PC via
USB 'A USB B' cable. Once connected the various operating parameters within the module can be viewed or
Edited as required by the engineer. This software allows easy controlled access to these values. This manual details the configuration of the DSE60xx series controllers DSE6100 series are covered in DSE Part 057-096 61xx series configuration suite The configuration suite should only be used by competent, qualified personnel, as changes to the operation of The module may have safety implications on the panel / generating set to which it is fitted. Access to critical Operational sequences and settings for use by qualified engineers, may be barred by a security code set by The generator provider.

The information contained in this manual should be read in conjunction with the information contained in the appropriate module documentation. This manual only details which settings are available and how they may Be used.
A separate manual deals with the operation of the individual module (See section entitled Bibliography elsewhere in this document).